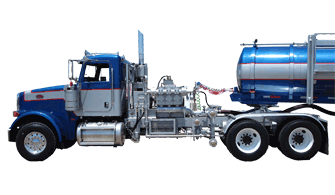 Kill Trucks Can Be Customized for What You Need
Energy Fabrication Kill Trucks are engineered and built using supreme quality materials and expert craftsmanship. Units can be customized engineering for your specific application.
"Energy Fabrication has been providing our customers with the most competitive equipment for over 25 years, contact us today for your pumping equipment!"
Features of Energy Fabrication Kill Trucks
Typical Energy Fabrication Kill Truck and Trailers Specifications Sheet
165" 600 HP truck-driven pumps
Oil bath chain drive, belt drive or gear drive
Volumes from 3.5 to 15 BPM
Pressures from 3500 PSI-15,000 PSI
Body load or cargo trailer style
Hydraulic or mechanical drive for accessory pumps
Complete driveline work
Control from the drivers seat or outside
Simple mechanical gauges on sophisticated electronic
Interface with computer systems
CAD design and pre-build work
Kill Trucks!
Browse through our gallery of kill trucks that we carry at Energy Fabrication!
Call us today at 800-946-8645 or 432-362-0591!