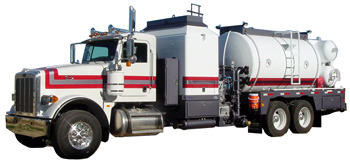 Overview
Energy Fabrication Hot Oil Units are engineered and built using supreme quality materials and expert craftsmanship. Units can be custom engineered to meet your exact requirements.
"Let the knowledgeable staff at Energy Fabrication work with you on your next hot oil unit purchase, call for pricing today!"
Features of Hot Oil Units from Energy Fabrication
Hot Oil Unit features include:
Standard burner box 7m Btu/Hr
Larger capacity heat exchangers available
Propane or diesel fired
2 coil assembly,  domestic material
Sch 40 or Sch 80
Triplex pumps from 60-165 HP
Dual hydrostat hydraulic systems or Mechanical PTO drive
Centrifugal circulation pumps for:
Long life, less downtime, no costly pump replacement
can be rebuilt to new specifications.
Mechanical seal means no leaks.
Smooth flow characteristics means fewer repairs
75 BBL storage tank & circular cross section
Onboard fire control systems
480 gal. propane storage
Available options:
Data acquisition system and display
Weatherproof and easily communicates with laptop PC
Higher capacity storage tanks
Air or electric valve activation
¼" shell and heads (no distortion)
Internal coating is standard
Air actuated vent system is closed when traveling
Vacuum pressure emergency vent
20" top manway
Tubular access ladder
Full length spill tray
Full skirting with full length hose tray and locking tool boxes
Rear hose rack and storage
Hose reels for high pressure discharge hose
Hi-pressure capable to 10,000 PSI
SST control panel and control cabinet
Lockable and self-raising front panel with Lexan window
Aluminum anodized switch panel with back lighting and switch description to operate work lights, hyd. Cooler, propane system, or other features
Analog or digital gauges for hi pressure and high temp
Includes engine kill and fuel shutoff to heater
Rate meter and totalizer with reset
Additional features include stow able hydraulic actuators, clutch actuator and engine throttle
Lockable feature makes controls tamper proof and weather proof
Opening to vaporizer keeps warm controls in winter
Can be fitted with most truck compatible computer interface systems available. Erad, Totco, Mobile Data, Murphy and can accommodate tank level electronics as well.
Safety shutdown systems include:
High pressure and hazardous atmosphere
Pipe storage options for up to 150" handline
Remote operating capabilities
Custom built or standard configuration
Hot Oil Units!
Browse through our gallery of hot oil units that we carry at Energy Fabrication!
Call us today at 800-946-8645 or 432-362-0591!