By: Al Pickett
Jan/Feb 2010
Tommy Southall believes the future of his industry is overseas. Southall is president of Energy Fabrication Inc., an oilfield fabrication company in Odessa, Texas, that manufactures hot oil units, kill trucks, transports, vacuum trucks and trailers, acid pumping trucks and trailers, acid transport equipment, heating equipment for the drilling industry, superheaters and offshore heating units.
Energy Fabrication is finding a way to compete and expand in a changing world market.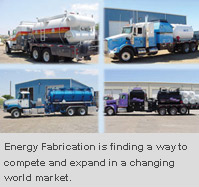 "Our future is based on where we can expand," he says. "The rest of the world is an untapped market for equipment that we have been using for 50 years in the United States. For example, if we want to dig a ditch in this country, we would say 'get me the best backhoe you can find.' In China, they would say 'get me 20 of the best men with shovels.' But that is changing. China is becoming more and more capitalistic and they are trying to get more bang for their buck. More and more, the Western way of doing things is being seen as the best way to do things. That is where it is going, not just in China but all around the world."
In light of that changing world market, Energy Fabrication recently signed an agreement with Jereh Corporation, a Chinese company that manufactures and represents oilfield equipment in China. Southall said he and his wife visited China last fall to sign the agreement with Jereh.
Energy Fabrication, reversing the normal trend of American companies buying products from China, will instead send the components for its hot oil units to China. Jereh Corporation will then assemble the hot oil units and sell them under the Energy Fabrication name in China and the countries that border China.
"In the last five years, American manufacturers have been building oilfield equipment at a record pace," Southall explains. "Now, we have a slump and we have a glut of good late-model equipment. For example, I understand there are 1,000 frac tanks for sale in Fort Worth, Texas. That used equipment has to be absorbed somewhere by other outlets, and they are all foreign. People who see that will capitalize."
He adds that as long as commodity prices remain relatively low and the current administration, which Southall describes as "not business friendly," is still in power, "a lot of people in this country won't take risks — and I don't blame them."
Southall says his company has sold its equipment overseas for years, but this is Energy Fabrication's first venture into China. "They are trying to shed their image of making poor quality products. Jereh is a small company by China's standards," he continues, laughing. "They have about 600 employees. We have 40 employees. But, of course, there are 1.2 billion Chinese people."
Southall, who had worked on hot oil units previously, started his own company in September 1991. Energy Fabrication has since tripled its manufacturing capacity.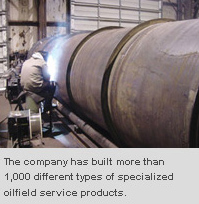 "We have always been on the cutting edge of development and product enhancement," Southall contends. "In 1994 we were the first ones to introduce a hot oil unit that had a circular cross-section storage tank instead of the conventional rectangular storage tank. That has been proven to have dramatically increased the safety of the hot oil unit." Since then, he says Energy Fabrication has built more than 1,000 different types of specialized oilfield service products, including more than 200 hot oil units.
Their buildings have more than 20,000 square feet of manufacturing capability.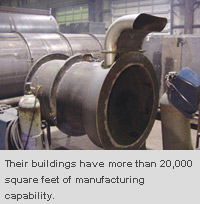 "We have a niche market," he contends. "Our equipment holds value, so the people that use it are in higher demand. Our market has not seen as big of a drop (in the current economic downturn) compared to the drilling, completion and production end of the industry. Our business always picks up in the colder months, too."
Southall notes that Energy Fabrication obtained its ASME accreditation in 1994 and is the holder of the "U" certification for pressure vessel fabrication that is required by the state and federal government.
"We also have the "H" stamp and the "R" stamp certification, which enables us to perform all the requirements that allow us to manufacture and sell Department of Transportation (DOT) 406, 407 and 412 cargo tanks and the various different types of heating equipment that we build," he says. "We are a full-service facility that manufactures, sells and repairs the products that we produce as well as servicing other manufacturers' products. We have a fully compliant paint facility that enables us to paint large vehicles without environmental concerns."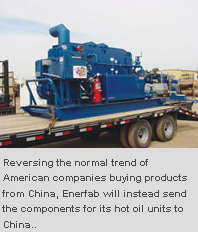 Energy Fabrication has more than 20,000 square feet of manufacturing capability that encompasses two facilities. "We have in-house design and CAD capabilities and a full machine shop and hydraulic repair center," he adds. "We repair several makes and models of pumps that include triplex plunger pumps and centrifugal pumps. We are also OEM installers for several products in the oil and gas industry."
Reversing the normal trend of American companies buying products from China, Enerfab will instead send the components for its hot oil units to China..
Hot oil units can provide a number of functions besides just heating oil, according to Southall. "A hot oil unit is a mobile pumping and heating unit that can heat water or crude oil to perform different functions," he explains, "from paraffin removal to stuck pipe or stuck pumps. It can be used to steam large storage tanks. We have also used hot oil units to test pipelines and flow lines and also clean the inside of the well bore. Whether you need pressure or heat, a hot oil truck is a real versatile piece of equipment."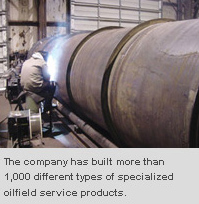 Energy Fabrication also makes acid pumping equipment and kill trucks, which pump brine water back into the formation to hold the crude oil back so the tubing can be repaired. Southall says a pulling unit is then used to pull the water out of the well after the repairs are made.
The company also makes acid pumping equipment and kill trucks.
Besides its newest venture into China, he reveals that his company also has many customers in other countries, including South America, Mexico, Khazikstan, Canada and India.
"Energy Fabrication has been involved in the Permian Basin Oil Show since 1992," Southall says. "If everything goes according to plan, we should have our first unit in the Beijing Oil Show in China in 2010."
He cites that as an example of a small Texas company like Energy Fabrication finding a way to compete and expand in a changing world market.